About
Specialising in underwater photography in British waters.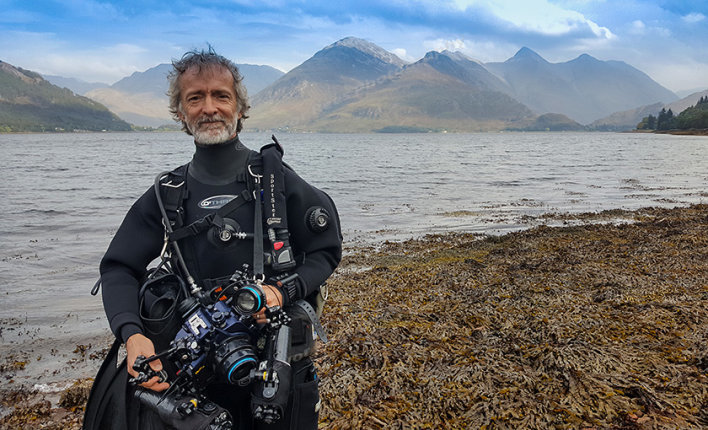 I started diving over 35 years ago and quickly developed an interest in underwater photography. After several thousand dives exploring some of the best places to dive and and also learning how to take underwater photos, I can now show a wide variety of underwater pictures, from close-up macros through to wide-angle scenics. My preference is for natural history photography but I am also interested in any subject that makes an interesting and appealing image.
My diving around the British coast includes the Scilly Isles in the south, the Orkney Islands in the north, St Kilda in the west - and the Farne islands in the east. My nearest best diving is probably on the south coast but the sheltered sea lochs on the west coast of Scotland are without doubt my favourite area. I also enjoy diving various freshwater sites that I reckon are often overlooked for their photographic potential.
In creating this website, I have aimed to show photos that are mainly from British diving, rather than from coral reefs. I have dived in many overseas places but get more satisfaction from capturing images that show how rich, colourful and diverse British waters can be. Many of my pictures have been successful in competitions and many have now been published in diving and wildlife magazines.
I live near Worcester in the UK, which although a long way from the sea, does mean I am likely to head both north and south for my diving. My livelihood does not rely on selling images or photojournalism but I do undertake some commissions. This leaves me free to use my experience to work in a more relaxed way on my own photographic interests. I am proud to be associated with SCUBA magazine, where since the start of 2015, I co-author a monthly photography column.
CAMERA EQUIPMENT
Pictures displayed on this web site have been taken with different cameras and housings but since 2018 I have mostly use a Nikon D850 in a Nauticam housing. For wide angle shots I use an adapted Sea & Sea NX compact dome port and occasionally a Sea & Sea NX fisheye dome port. A Nauticam wide-angle corrector port (WACP) is a recent addition for wide-angle to medium sized subjects. For macro subjects I use a Nauticam 60 flat port; Flashguns used include both Sea & Sea YS110's and Inon S2000's.
My favourite lenses are a Nikkor 60mm f2.8 AFS micro; a Nikkor 105 f2.8 VR AFS micro and a Sigma 15mm f2.8 fisheye. A Nikkor 28-70 D lens is also used with Nauticams WACP. A Kenco 1.4 X tele-converter is sometimes used with the Sigma 15mm.
Olympus M43:
I also use an Olympus Pen EPL7 camera with an Olympus PT-EP12 housing for certain trips where I prefer a lightweight small form factor system. For this camera I have an Olympus 14-42mm zoom, an Olympus 8mm fisheye and a Panasonic 45 mm macro lens.